History of Holland > Dutch painters > Dutch genre painters > Gerard Dou (1613-1675)
---
Gerard Dou (1613-1675)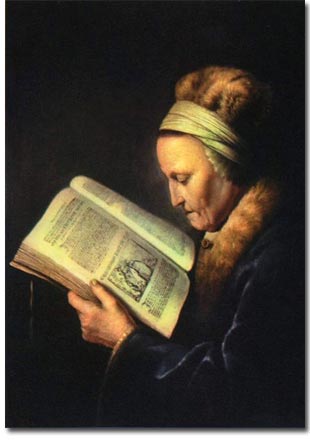 The first young man who came to Rembrandt in Leyden, when the budding genius himself was only twenty-one, was the fifteen year old Gerard Dou (1613-1675). He was the son of a glass-painter, and had already served his father for three years in his workshop, and had there laid the foundation for that inexhaustible patience where­with he later executed his marvellous, enamel-like jewels.

The distinction of method between master and pupil may be readily understood if we take in account Dou's early training. While he learned from Rembrandt that brilliant mastery of interior light, and of colour, which never in life failed him, he adhered to his original tendency for minute execution. And while Rembrandt, after leaving Leyden, grew broader, larger, more powerful, Dou contented himself with ever increasing care, for delicate treatment and extreme finish.

On Rembrandt's departure Dou established himself independently, and at first devoted his talents to portraiture. But his early bias got ever stronger, and as he compelled his sitters to pose for five days merely to have a hand finished, the tediousness of the procedure to paint the face often distorted their features from amiability to vexation, weariness and displeasure - surely unfitting them to serve as models for his skill. Commissions grew less and less, and Dou was compelled to paint his figures from paid models which plausibly explains why, with Dutch thriftiness, he spent most of the time on painting the still-life part of his pictures, devoting, according to his own statement, three days to a broomstick "hardly bigger than your finger­nail."

The familiar subjects of his tiny masterpieces and the exquisite finish of their details completely captivated the taste of the public of his day. They were highly paid, and have always kept and constantly increased their commercial value. The Minister from the Court of Sweden at The Hague, Pieter Spiering, paid him an annuity of 1,000 florins to have the first choice of whatever he should paint each year, besides paying the full price for the pictures selected.

Dou was an incessant worker and accomplished much. Despite his slow process and miniature-like execution, he left to posterity about three hundred pictures, which he painted in his home by the Galgewater in Leyden. He lived there, unmarried, with his niece Antonia van Tol as housekeeper. His choice of this home on a quiet canal was made to be as free as possible from the dust raised on a much-travelled road. Far the famous Dutch characteristic of love of cleanliness was carried by Dou to the excess that when he had entered his studio he would seat himself at his easel and wait until any particles of dust that might have been raised by his entrance had subsided. Not until then would he uncover the picture he was engaged upon, and his palette and brushes. Taking in consideration his craving for absolute smoothiness, concealing every touch of the brush, we need not wonder at such fastidiousness.

And yet, such is the masterfulness of Dou's talent, that we never think of him as a finicky' painter. His skill was such that we forget to a great extent the painstaking, infinite patience of the worker for the beauty, the unrivalled precision of his execution, the exquisite transparency of his colour, the picturesque arrangement of the work he produced. He painted the home life of simple people with delightful truth and sympathetic interest in their peaceful routine, and he did this in perfect form, all parts in perfect relation to one another, with aerial perspective and enveloping atmosphere. He was a great master.